The Page Flipper
is having another monthly Prize Pack contest for April!
This months books are:
Class Favorite by Taylor MorrisSara Thurman has never considered herself part of the popular crowd - she's got her best friend Arlene and that seems like enough. But when Sara's mom sends a special Valentine's Day delivery (PERIOD FLOWERS!) to her class, all of a sudden Sara is very famous - only for a horribly embarrassing reason! It seems everyone at Bowie Junior High knows something about Sara that she'd rather keep to herself and the harder Sara tries to blend in the more she ends up sticking out. Not only that, but it suddenly seems that Arlene doesn't have time for her anymore, and she has an unbearable crush on Jason who doesn't have any idea who she is (until now, that is). Worst of all, nothing's felt the same since Sara's dad left home. It all has Sara wondering if things will ever return to normal -- especially if she can't even remember what normal feels like. Sara can't figure out why it seems that everyone else has it easier than she does - would things be better if she were popular? Sara decides that if she can't beat 'em then she'll join 'em -- and she hatches a top secret mission to become....Class Favorite.
Totally Joe by James HoweJoe's teacher asks his seventh-grade class to write an alphabiography throughout the year, presenting themselves and their lives in entries from A to Z. Joe's essays begin and end with friends, from Addie, a long-time pal and confidant, to Zachary, a new student who, like Joe, has a unique approach to life. Throughout, Joe demonstrates that he truly is a one-of-a-kind kid, mostly comfortable with himself but still struggling with common adolescent issues. It's difficult for him to relate to his athletic brother, and he misses his much-loved Aunt Pam, who moves to New York City. He also comes to grips with his sexuality, questioning gender expectations and traditional roles as he realizes he is gay. Because he is different, he is tormented by Kevin, who calls him a girl and faggot and falsely accuses him of kissing his friend Colin (a jock not yet ready to come out).
Hershey Herself by Cecilia GalanteWhen twelve-year-old Hershey must run away with her mother to a women's shelter, she wonders how, among other things, she'll compete in the town talent show with her best friend, Phoebe; who will take care of her cat, Augustus Gloop; and if she'll survive being on a new bus route with her sworn enemy.
Shug by Jenny HanTall, freckled, gawky seventh-grader Annemarie Wilcox (whose family calls her Shug) has a beautiful, popular older sister; a gorgeous, alcoholic mother who doesn't fit in their small Georgia town; and a father who's always away on business. She also has a huge crush on Mark, the neighborhood boy who has always been her best friend. As the school year starts, Shug must deal with Mark's rejection, her parents' bitter fights, and a falling out with her closest girlfriend.
Dumped by Popular Demand by P.G. KainDorie Dilts has just moved from California to New Jersey. For most kids this would be horrendous, but for Dorie it's the chance to conduct the most important research of her young life. She is determined to pour all of her scientific knowledge into an experiment that will, once and for all, make her popular! Dorie's first discovery is easy enough: She determines that the Holly Trinity -- led by class president Holly McAdams -- is the hottest clique. The one thing the three girls have in common? They all dated and got dumped by Grant Bradish, the cutest and most obnoxious boy in school. Getting dumped is one thing, but even if Dorie finds a way to get Grant to go out with her, will she want to date a total jerk?
Also, head on over to
Free Alan Rickman
for a T-shirt contest where you can enter a design for a T-shirt relating to Suite Scarlett by Maureen Johnson or Freeing Alan Rickman, and, if you win, you will get a FREEBIE of your own design. You can also buy any of the T-shirt's created as other entrees and all commissions will go back into the contest and any profit will go to The Freedom to Read Foundation (
http://www.ftrf.org/
). Head on over and enter! (to go directly to the contest rules, click
here
)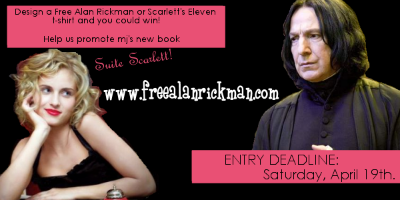 ♥heather
(see review for Devilish by Maureen Johnson below)